Today is Sunday November 26th. Grey Cup Sunday in Canada. I have plans to do something I haven't done in decades. 

Yes, I am actually going to watch the game. I'm meeting some Canadian friends at Macaws and we will watch the football game together. Who will I cheer for? Let's see, Manitoba is in the middle of the country and once again the Bombers bombed out. Calgary in the west? Toronto in the east? Hmmmmmmm…………
Thirty-seven years ago today I spent the day at Misericordia Hospital in Winnipeg in labor with my son Kyle. Not that he was actually born that day. Instead he chose to arrive the following day shortly after midnight. While I hung out in the delivery room, my ex was in the lounge area watching the game. No comfy birthing rooms back then.
Growing up, Kyle was more of a NFL fan than a CFL fan. So the focus was on Super Bowl and real football. In all honesty I don't recall much about Grey Cup although the Bombers did win once when Kyle was quite young as he had a t-shirt proclaiming this. I snagged this photo off the internet as I don't have the family photo albums with me here in Mexico.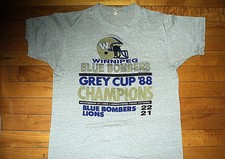 My most poignant memory of Grey Cup……….being in labor for hours with my first child. Do you have a Grey Cup memory?