The older I get, the faster time flies by. I've been back in Mazatlan for over three weeks now yet it feels like just yesterday I was in Leavenworth. I am also living in a completely different area now so there is a lot of exploring that needs to be done. I still marvel that there is so much within walking distance, a feature I enjoyed about living in Tlaquepaque.
I must admit that my favorite pastime is still my strolls along the malecon. I haven't been up early enough to see sunrise, but I have seen many a sunset. The lapping of the waves against the shore is calming. Every day at 6 pm the malecon in Olas Altas is closed to vehicular traffic, an added bonus to the peace and tranquility of the ocean.
I'm going to see The Nutcracker at the Angela Peralta Theater tonight. I'm sure that the experience will be quite different from that in Canada. The theater itself is historic and takes you back in time. I'm certain that the children performing will be a delight.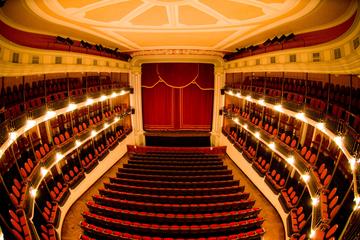 Yesterday was Art Walk. We only went to one of the venues, but were entranced with the art and the jewelry on display. There are some 30 venues scattered throughout Centro so there will be more to see in future exhibits.
El Recreo features a variety of events in addition to the movies each week. Last night there was a play reading and the other night I attended an evening of poetry and music where the participants were all associated with a Christian mission here in Mazatlan.
Macaws had a great singer last night which added to the enjoyment of sitting outside with friends sipping a cold beer on a warm evening. Music fills the air in Centro and it is all within walking distance of where I'm staying.
Wednesday was cruise ship day and my friends from Winnipeg were here. It was lovely having lunch with them at a restaurant in the Plaza Machado. Now if only more of my friends from Winnipeg would come here.
I've been out to lunch and dinner with old friends and new. Red Hat group has started getting together again. Weekly card games are back in progress. And I will be doing some new volunteer work beginning in January.
This winter the plan is to focus more on my writing. I'm currently taking a course from Weslayan University that focuses on Plot. My current WIP is fiction, very different from the two self-help books I published in the past. It's fun to juggle around characters and scenarios.
Now that Thanksgiving is over, Christmas decorating is underway.  I will be sure to have a post with some of the highlights. In the meantime, this is my creation atop my dresser in my room.